A Business setup in Dubai – UAE is as easy as it sounds if you know a reliable business setup consultant. We at Plan 2 Dubai Providers has supported many clients to get started with their businesses in Dubai especially. We are proud to play a significant part in the company setup and their development in the UAE.
If you reach out to us, please be assured that we can help you get started with your own company in no time and assist you in its development.
Types of Company Formation in Dubai
Dubai offers the highest number of business types for company formation in comparison to any other Emirates. It gives the flexibility to an entrepreneur to select the best option as per their needs:
1)Mainland Company Formation : The company gets the opportunity to operate in and serve the UAE market.
2)Free ZoneCompany Formation : There are numerous free zones in the UAE. A free zone company is operated from one of the free zones as per the business activities allowed and benefits obtained from the business setup package.
3)Offshore Company Formation : The company will be registered in Dubai, but you can operate it from anywhere in the world.
4)Branch Offices & Subsidiaries : When your headquarter is located in a foreign country, and you wish to operate in the UAE, you can choose this option.
Mainland Company Formation
You can get a Mainland Trade License in Dubai with 100% foreign ownership in 5-7 workingDays*
The time is just right to set up your company in Dubai. Company formation in Dubai has never been easier, thanks to the UAE government's new company laws, fluid regulatory procedures, easy approval procedures, and short timelines. With new laws process made just simple and easy for all nationalities to open a company in Dubai – UAE.
Expats can now enjoy full ownership of their company if they are into professional services i.e., Restaurants, commercial Brokers, logistics, IT solutions, Management consultancy, etc. All of these have made starting a small business in Dubai the preferred proposition for many entrepreneurs.
Getting a company registration in Dubai can be easier still with Plan 2 Dubai the active business setup Professional Adviser on your side. Starting a Business in Dubai as a foreigner won't take up all your time and energy when you work with one of the top-rated business setup consultants in Dubai.
When you start a mainland company, there is no limitation on the number of visas. Moreover, you can choose the office at one of the prime locations. If you want to flourish in your business, you can create multiple branches. All of this comes with 0% corporate tax and 100% repatriation of the capital and profit. Therefore, it is one of the best options for businesses that want to have a significant presence in the UAE.
Be it an LLC company formation, company registration for a professional firm, or forming a representative office of foreign companies in the mainland, we assist you in each step of the way in your journey of mainland business setup in UAE.
Advantages of Mainland Licenses
Significant presence in the UAE market – Starting a business in UAE will gain access and freedom to trade inside and outside the UAE. This is an advantage available only to the companies located in the Mainland and opens up a lot of opportunities.
Favorable business environment – Dubai has top-notch trade centers, advanced infrastructure, and a solid communication network. The mainland region has the ideal infrastructure to support your up-and-coming or thriving business.
Tax incentives – The lure of zero corporate tax is the primary reason many entrepreneurs and investors opt for LLC, sole establishment, partnership firm types of company setup in Dubai.
No double taxation – Dubai allows business owners to opt for a double taxation agreement for import-export processes, which allows them to remove the need for the tax to be paid on both the sides.
Stress-Free Business set-up process – When it comes to business setup, Dubai Mainland companies are comparatively easy to set up. Moreover, there are expert business setup consultants in Dubai who can help you opening a business in Dubai and even smoothly execute a low-cost business setup in Dubai.
Different Types of License in Mainland Dubai – UAE
Commercial License
Companies that are involved in any sort of commercial trade activity can use this business license in Dubai. Both general and specialized traders need to obtain this license to conduct their business operations in a hassle- free manner throughout Dubai. Under a Dubai commercial license, 51% of the company's shares are owned by a UAE national, and 49% are owned by the expat owner.
Professional License
In the case of a professional business license in Dubai, all the shares are owned by an expat partner. A UAE national is appointed as a Local Service Agent or LSA. A professional license can be used for business that offers non-physical services like consultancy. A professional license is mandatory when an individual or the group of individuals offer their expert service and when the business is wholly owned by the expatriate. The local service agent, in such cases, acts as the representative in undertaking administrative transactions with government departments. The local service agent does not hold any stake in the business and is paid an annual fee for their service.
Industrial License
An industrial business license in Dubai is issued to companies that turn natural materials/resources into other finished products and/or other manufacturing activities. Under this business license in Dubai, 51% of the company's shares will be owned by a UAE national and 49% by the expat owner.
Tourism Licenses
The three main types of tourism licenses in Dubai are -Travel agency license as an operator of inbound tourism, Travel agency license as an operator of out-bound tourism, and lastly, Travel agency license as a travel agent.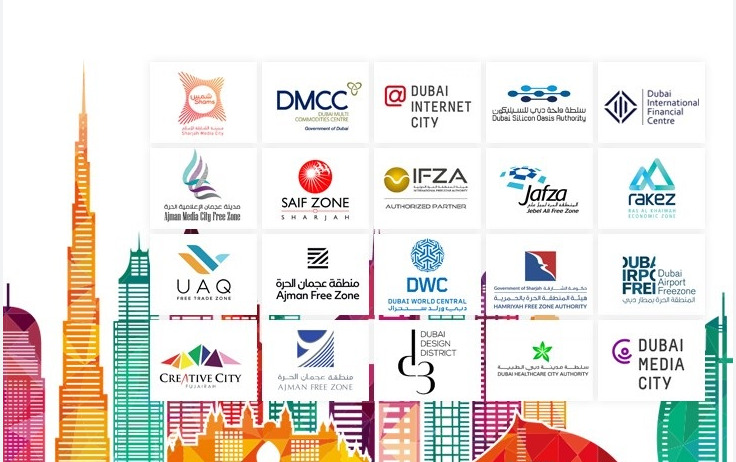 FreeZone Company Formation
Business Setup in Free Zones
Free zones are one of the major attractions for foreign investors. The UAE government allows a free zone business setup to have 100 % ownership of the business. You are not required to rely on a local sponsor to establish your company. There are numerous free zones in the UAE. Some of the famous ones are as follows:
Dubai Internet City (DIC)
Dubai Multi Commodities Center Dubai (DMCC Dubai)
Jebel Ali Free Zone Authority Dubai (JAFZA)
Ajman Free Zone Authority (AFZA)
DAFZA: Business Setup in Dubai Airport Free Zone Authority
Abu Dhabi Airports Free Zone.
We will assist you in free zone selection as per your business sector and specific requirements. Moving forward, we need to choose the business setup type from one of the following:
Free Zone Establishment
Free Zone Company
Public Listed Company
Branch of a Company
After we are done with selecting the free zone and the business setup type, we need to perform the licensing process. We will submit the application, assist you in finding the office and lease agreement, and prepare all the necessary documentation.
Offshore Company Formation
Offshore business setup in the UAE helps businesses to maintain complete privacy. With our approach and expertise, your business setup can be completed with minimal cost and high control.
There are only a few specific offshore locations in the UAE:
Jebel Ali Offshore
RAK Offshore
Ajman Offshore
We have experience in setting up businesses for all three offshore locations. Therefore, whatever location is suitable for your offshore business setup, we will select it and conduct the best-in-industry business setup in UAE.
BENEFITS – OFFSHORE COMPANY IN UAE
Confidentiality and Privacy
100% Asset Protection and Security
No Audit Report required during Renewal
Invoice International Clients
Open International Corporate Bank Account
100% Foreign Ownership and Repatriation of Profits
No Public Register of Shareholders and Directors
Low operational costs
Park your funds without any hassle and worry
Tax-free Company Set up with no Capital requirements
Branch Office & Subsidiaries
When your headquarter is located in a foreign country, and you wish to operate in the UAE, you can choose this option. Opening a Branch Office in Dubai comes with several benefits for the investors. It helps overseas investors as well as Free Zone companies to expand to the local UAE market by setting up a branch in the Dubai Mainland.
Investors globally prefer UAE to establish their branch company to drive the local market penetration. Large companies with a global presence choose UAE for setting up their branch office to tap into the UAE and Middle East region.
How to open a Branch Office in Dubai, UAE?
To start a branch office in Dubai of a Free Zone Company or Mainland Company, there are few steps to be followed. For opening a branch of a foreign company in Dubai – UAE Mainland &FreeZones the procedures and steps vary slightly.
Prepare an Application to Open the Branch Office
One can set up a Branch Office in Dubai by preparing the required documents, filling the application form, and submitting it to the Dubai Economy.
It is important to note that for a branch office there is a mandatory requirement of having a local service agent.
Plan 2 Dubai will assist you in finding the right local service agent for your branch office by assessing all your business requirements.
Obtain the Required Permits
There are few permits to be obtained to start a branch office in Dubai for selected business activities such as Healthcare, Electronics (Mobile) Trading, Education, etc. The Ministry of Economy has to approve the application by assessing the requirements and nature of business activities.
For a foreign company branch, the process includes further attestation from the Embassy of UAE in the parent company's home country. Also, a clearance from the Ministry of Foreign Affairs in UAE.
Secure the License from the Ministry of Economy
Upon submitting the required documents to the Ministry of Economy and paying the required fee, the branch office license will be issued.
Register with the Chamber of Commerce
Once the branch office license is obtained, register the company with the Chamber of Commerce in the UAE.
Procedure to Open a Branch Office of a Free Zone or Mainland Company in Dubai
Approval from the Board of Directors
To open a branch office, the board of directors must pass a resolution stating the opening of a new branch office.
The Board of Directors can appoint one director to carry out the setting up of the branch company and oversee the operations.
Branch Office Registration
Once the board resolution is passed, the company can proceed with the registration of the branch. The Company can follow the above-represented steps to secure its business license and register the branch in the mainland of Dubai.
Aurion will assist you with end-to-end business support services to register your company's branch office in Dubai in the most comfortable way.
For a Free Zone Company with a service License category, the cost of setting up a branch office in Dubai is Approx. AED 30,000. The branch office will have the same name as the Parent Company with 'Branch' as the Suffix. It is entitled to conduct all the business activities of the parent company.
Why Start a Branch Office in Dubai?
Get 100% Foreign Ownership
The branch office is not considered as a separate legal entity but as an extension of the parent company.
Hence enjoy 100% ownership in the branch office and conduct the same business activities as the parent company.
Rent an Office Anywhere in UAE
The branch office can be established anywhere in Dubai as per the business requirements of the company shareholders.
The company can opt for renting office space at a lower cost in Dubai Mainland to keep the administrative cost low. For organizations that do not require office space at the center of the city, they can opt for offices with low rent anywhere in UAE.
Trade-in Mainland of UAE
Setting up a branch office in the mainland of Dubai enables the company to actively trade-in the local markets of UAE.
Branch Office allows a business to trade in the mainland of Dubai directly without the requirement of a local distributor, or agent.
Tax Benefits
UAE has Zero Corporate and Income Tax, and Companies can gain maximum benefits out of this tax regime.
By setting up a Branch Office in Dubai, the company can leverage the Double Taxation Avoidance Agreement (DTAA) and save tax in the home country.
Audit Report Requirement
Auditing a large company with daily financial transactions is tedious. Setting up the Branch Office will help in legally tracking all the transactions between the branch and the parent company.
Low Administrative Cost
The overall cost of opening a new branch is lower than setting up a new company in multiple countries.
In UAE there is no requirement for branch offices to maintain audit reports. Also, taking a small office for your branch in Dubai will keep the administrative and costs low.
Cost-Effective Route to new Markets
Setting up a Branch Office provides an easy way to enter a new market. The running cost of a branch office in Dubai is relatively lower than setting up a new company as a whole.
Documents Required for Opening a Branch Office in Dubai
Trade name Approval Certificate
Parent Company Documents – Memorandum of Association, Articles of Association, Certificate of Incorporation, and Certificate of Good Standing
Board Resolution for setting up a branch office in Dubai
Power of attorney for the General Manager
General Manager's Passport copy
2-Year Audited financial statements of the parent company
List of major business activities and trade activities that will be carried out in Dubai
Local Service Agent Agreements and identification documents copy.
Getting ideal office space in Dubai is one of the important tasks that only a knowledgeable business setup agent can perform. If you try to find an office on your own, you may not be able to explore better options. As we are working in the UAE for more than thirty years, we know about each commercial project in the city.
Before office setup in Dubai, we only want you to let us know the following three factors:
1. Budget
2. Requirements
3. Preferred locations
According to these three factors, we aim to find the best possible solution for you. We also provide services related to flexi desks and warehouses in Dubai.
Why Us
We work closely with all Government Agencies